Computers often frighten older users resulting in the great digital divide. A.T.E.D.Y. bridges the gap for Seniors in today's information age. Computers and the Internet can significantly enhance the lives of Elderly users.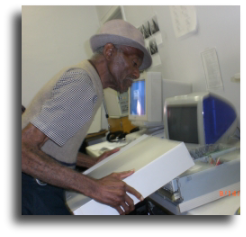 With computers Elderly users can communicate with their children, grandchildren, e-mail greeting cards, shop online, grocery shop with delivery and find information about anything of interest to them. A.T.E.D.Y provides information to overcome the fear of technology for Seniors. Older uses are most afraid of breaking the technology or feel it is too difficult to master computer technology. Here are a few techniques that A.T.E.D.Y assists the Elderly in gaining computer freedom:
1. Play Solitaire to become familiar with the mouse.
2. Sending and receiving their first e-mail to a close friend or relative.
3. Search the Internet for a subject close to the heart or send / receive photo albums.
4. Listen to radio, read newspapers, cooking recipes, pay bills and much more.