A.T.E.D.Y's mission
to close what is termed the "Great Digital Divide Gap" the disparity in computer use and literacy between low-income groups (Elderly, Disabled & Youth),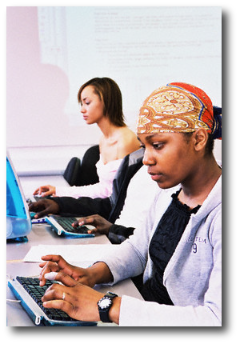 which exist mostly in low-income urban areas compared to their more prosperous peers. This shall be accomplished by providing technical skills preparation to disadvantaged groups, partnership with other organizations to create social and economic opportunities that change peoples' lives and transform communities. Our clients have the opportunity to visit our location to evaluate adaptive equipments, computers, electronics, softwares, hardwares and workshops / demonstrations of information technology resources.
ATEDY, Inc., a non-profit tax exempt (501(c)(3) community-based agency was founded in 2003 to provide processes and strategies required to assist at-risk youth, people with disabilities, and the elderly how to become more efficient users of

"assistive technology"

  

A.T. E.D.Y began serving the community on May 1, 2003. Its goal is to provide the Elderly, Disabled & Youth with information concerning advancements in information systems technologies by way of computers, electronics and print media.